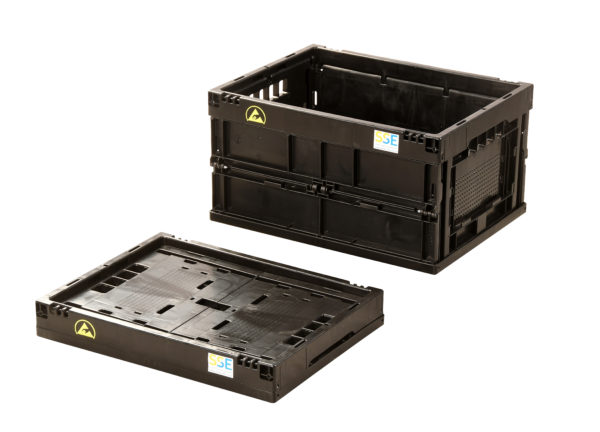 ESD Collapsible Boxes
A range of ESD foldable containers manufactured from conductive polypropylene.
External height when collapsed is approximately 70mm, which equates to a 68% space reduction
All containers are clearly marked with the ESD warning symbol.
ESD Collapsible Boxes and Lids
Material: Conductive, Carbon Loaded Black Polypropylene
Surface Resistance: < 10⁵ Ω
Volume Resistance: < 10⁴ Ω
Electrostatic Shielding: Max 6000 Volt
Static Decay Time: < 0.1 second
Temperature Capacity: Containers / carry cases: 80°C
Please note depending on load, product distortion may occur at 50°C
SSE code
 External sizes (Open)
  External sizes (Collapsed)
 All dimensions are in mm
 55187
  400 x 300 x 220
   400 x 270 x 70
 55188
  600 x 400 x 220
   400 x 370 x 70
Browser not supported
We recommend that you use the latest version of Chrome, Edge or Firefox.
Available Options: