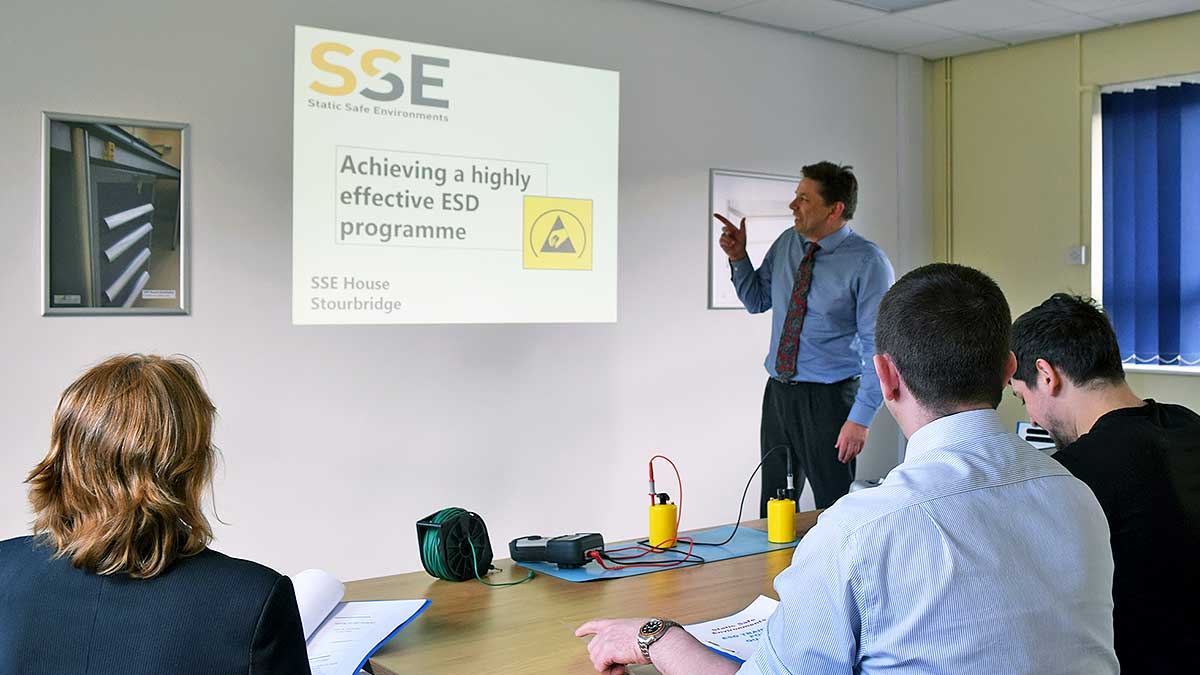 ESD Training
SSE has been running ESD training courses for many years and with time our courses have evolved and developed to keep up to date with new advances in ESD technology and the changing European and American Standards.
The SSE training courses are full of practical demonstrations and always include participation from the delegates. They avoid detailed theoretical debate and analysis, and concentrate on practical and straightforward solutions to real problems. Training courses are carried out either the customer's site or at conference/hotel venues when we run our 'open' courses.
'The Reality of ESD – Working in an EPA' course is a half day ESD awareness course for delegates with either limited or no knowledge of ESD in the workplace. It caters for up to 15 delegates at a time and usually takes place at the customer's site. The customer pays a rate for the course and not a rate per delegate.
'ESD Co-ordinator Training – Achieving a highly effective ESD programme' course is a full day training course designed for delegates with some previous knowledge of ESD who will have ongoing responsibilities for the implementation of the company's ESD programme.
We run the ESD Co-ordinator course both at customers' premises and as an open course* held at conference/hotel venues round the country. For courses held at a customer's premises, the customer pays a fixed rate for the course, open courses are priced 'per delegate'.
* Please contact us to reserve your place on the next 'Roadshow' open ESD Co-ordinator training course in Oxford. The course is limited to a maximum of eight delegates.  It is a full day course and includes lunch and refreshments.
Our 'Combination ESD training course' comprises a morning session of 'The Reality of ESD – Working in an EPA' course with an afternoon 'Programme Management Extension Course' session. Typically the afternoon session is only attended by the delegates who will have ongoing ESD responsibilities within the company. The afternoon session differs from the ESD Co-ordinator course in that it involves less practical demonstration and discussion.
We can tailor our standard courses to suit specific customers' specific ESD requirements if necessary – contact us to discuss.
Course notes are provided to all delegates on our ESD training courses, and every delegate is awarded a personal certificate of attendance on completion. These certificates can form part of ESD control programme records as evidence of training for external audits.
ESD awareness and training aids
SSE has a range of useful ESD awareness and training aids available to assist with informing and demonstrating the impact of electrostatic discharge.