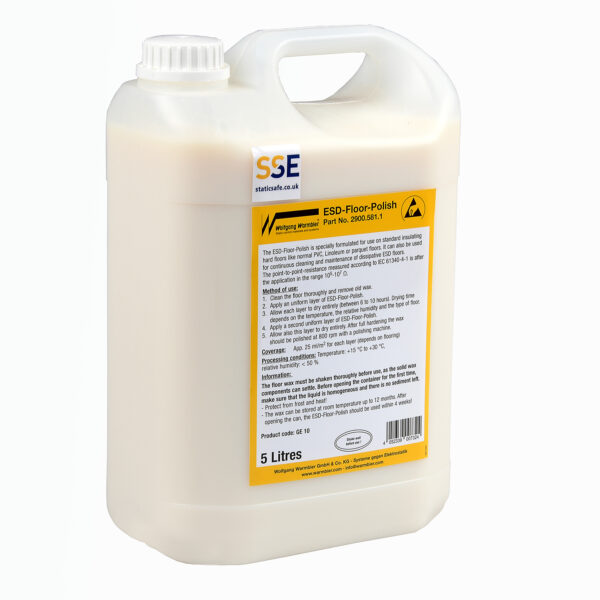 Wolfgang Warmbier ESD Floor Finish
An ESD floor finish for use on hard, non-ESD floors and for ongoing cleaning and maintenance of static dissipative floors.
Supplied in 5 litre containers.
Coverage approximately 40 m2 per litre of finish – two coatings required.
Point to point resistance 105 – 107Ω
(Application instructions and product safety data sheet can be found in Product Information below).
Wolfgang Warmbier ESD Floor Finish (Product code: 14013)
Wolfgang Warmbier ESD floor finish is specially formulated for use on standard insulative hard floors such vinyl, rubber, linoleum, epoxy-coated and parquet floors. It can also be used for ongoing cleaning and maintenance of dissipative ESD floors.
After application, the point-to-point-resistance measured according to IEC 61340-4-1 is in the range 105 – 107 Ω
Applying the polish:
1. Clean the floor thoroughly and remove old wax or floor finish. Wolfgang Warmbier ESD Floor Stripper (Code: 14012) is recommended for removing old floor finishes.
2. After cleaning with floor stripper, moisten the floor with clean water and allow to dry .
3. The floor finish must be shaken thoroughly before use as the solid components can settle. Before opening the container for the first time, make sure that the liquid is thoroughly mixed and there is no sediment
4. Apply a uniform layer of undiluted ESD floor finish using a T-Bar mop pad applicator or equivalent, applying the finish in a north, south, east, west pattern.
5. Allow the layer to dry entirely (between 6 to 10 hours). Drying time depends on the temperature, relative humidity and the type of floor. The finish will be clear when dry.
6. Apply a second uniform layer of finish as above.
7. Allow this layer to dry entirely. Ideally, after full hardening, the floor should be polished at 800 rpm with a polishing machine.
Ongoing floor maintenance:
For weekly cleaning, 5% ESD floor finish should be added to the cleaning water.
Coverage:
Approximately 4m² per 100ml (dependent on type of flooring)
Application conditions:
Temperature: +15 °C to +30 °C, relative humidity: ideally < 50 %
Storage:
Protect from frost and heat. The finish can be stored at room temperature up to 12 months. After opening, the ESD Floor Polish should be used within 4 weeks.
Quantity:
5 litre container.
Browser not supported
We recommend that you use the latest version of Chrome, Edge or Firefox.
£77.00