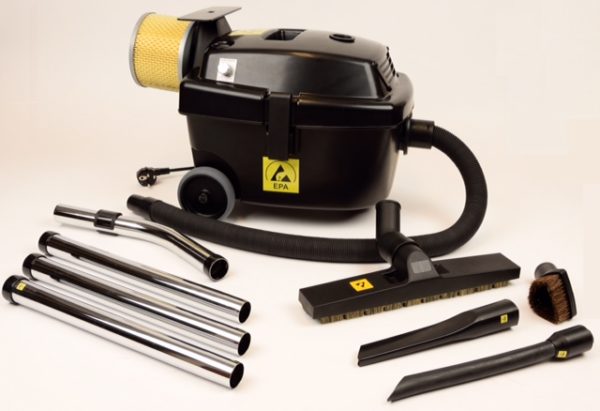 EPA Cleanroom Vacuum Cleaner – Variable Speed
A high efficiency ESD vacuum cleaner with variable speed control, designed for use in EPAs and around static sensitive equipment.
The cleaner has a low-charging,  dissipative housing with castors and a 10m lead, allowing for a 15m cleaning range.
Airflow can be reversed, enabling the unit to be used as a variable speed blower.
Suitable for use in ISO 7 cleanrooms.
Supplied with the following:
HEPA motor filter and HEPA air exit filter
3m extendible hose
Three plated steel extension tubes
330mm wide floor nozzle with brush strips
Crevice nozzle
D-shape brush nozzle
Flexible rubber nozzle
Motor rating: 1100W variable speed
390mm x 340mm x 425mm (length x width x height)
Browser not supported
We recommend that you use the latest version of Chrome, Edge or Firefox.
£917.00