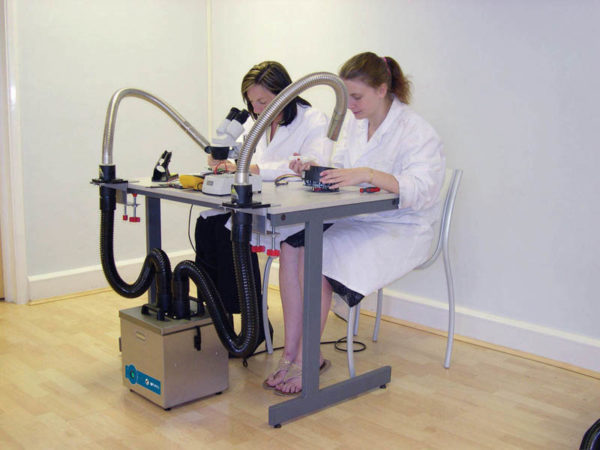 FumeCube Single Arm Kit 350mm x 308mm x 283mm
FumeCube Single Arm Kit 350mm x 308mm x 283mm
Fume Purification The Purex Portable fume purification units provide low cost protection from noxious fumes at individual work stations. FumeCube Portable Extraction
A compact and efficient unit for use where flexibility is required.
Provides sub-micron particle and gas filtration, with a large HEPA main filter.
Features include: – very quiet operation (Whisper Stream) – electronic flow control – visual warning indicators (VariColour) – variable speed settings – stainless steel housing – single arm
Browser not supported
We recommend that you use the latest version of Chrome, Edge or Firefox.
£710.00
Technical Specification
Power Supply: 230V at 0.14kW 50/60Hz
Sound Level: 60dBA
FlowRate: 200m3 per hour
Dimensions (mm): 350mm high x 308mm wide x 283mm deep
Weight: 2.5kg
Single Arm Kit FumeCube Main filter + pre-filter pad 51mm x 2m flexible hose 2 connecting cuffs
Clamp bracket 38mm stainless steel flexible arm 38mm pen nib nozzle