PX Static Dissipative Paint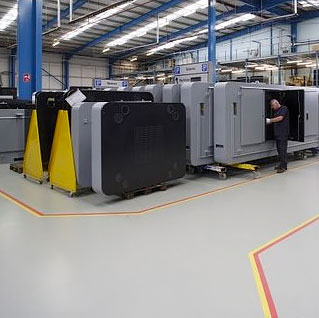 As an alternative to covering floors with dissipative sheet, tiles or carpet, SSE offers two types of dissipative paint which can cost effectively ground personnel.
Paint treatments are well suited to provide reliable, dissipative finishes to large expanses of concrete floor where the activity on microelectronic components and assemblies is not intense.
Although dissipative floor paints do not have the longevity of rubber or vinyl flooring, they are comparatively less expensive, quick and easy to apply and offer an almost instant solution.
The two types of dissipative floor paints available from SSE are both water based:
PXP – a two pack static dissipative polyurethane paint PXP paint comprises two pre-measured components which have to be precisely mixed but once applied and cured, provides a tough surface capable of withstanding heavy traffic wear.
PXA – a single pack static dissipative acrylic paint PXA paint comes in a single container, is ready to use and its application is very simple and easy.
There are several good reasons to consider SSE's PX dissipative floor paints for treating areas of concrete floors or already painted floors:
Simple, easy and quick to apply
Relatively inexpensive
Tough and hard wearing
Good chemical resistance to many weak acids
Very good coverage, typically 9 to 10m2 per litre of paint.
Easy to repair and replace by reapplication
Application
Once the surface is in a condition to accept PX dissipative paint, it will be applied by brush or roller.
The paint drying time is dependent on local ambient conditions but the floor will always be ready for its second application after 24 hours.
A copper tape, one for every 110m2 of painted surface, is used to link the floor to an earth connection point which also serves as a floor test junction box.
SSE recommends the application of paint to a trial area to establish that the paint adheres satisfactorily to the existing floor surface. Samples of paint are available from SSE for this purpose – please ask.
Please note – SSE does not offer a paint application service.
Availability
PXA and PXP paint is supplied in sealed 5 litre plastic containers in a light grey colour as standard. PXA Acrylic paint is also available in blue, red and green finishes.