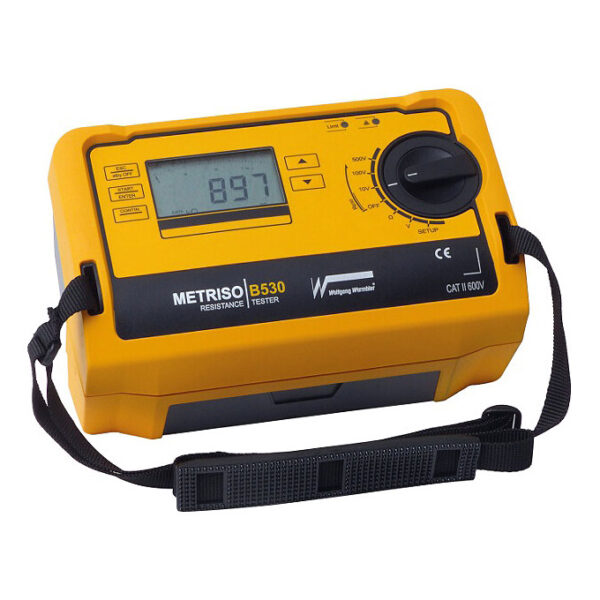 Metriso® B530 Resistance Meter
The Metriso® B530 is a digital high resistance meter for measuring point-to-point resistance and resistance to ground of persons, shoes, mats and floor systems in an ESD protected area.
The Metriso® B530 meter can be purchased either as a single item or as part of a complete kit containing all the necessary accessories required for carrying out testing in an EPA.
Test voltage: DC 10 volts, 100 volts and 500 volts
Test range: 103 Ω to 199 GΩ
Operation: Battery operated (batteries included)
Complies with IEC 61340-4-1, IEC 61340-2-3, IEC 61340-4-5, IEC 61340-4-9
A detailed specification and operating instructions for the Metriso® B530 are shown in Product Information
Metriso® B530 meter product code 83060, supplied with:
Operating instructions
Calibration certificate
Metriso® B530 Test Kit product code 83061 containing:
Metriso® B530 meter
Operating instructions
Calibration certificate
Two 2.27 kg /63.5 mm diameter Model 870 non-marking probes with connecting leads
One extension handle for Model 870 probe
One hand-held Model 45 probe with connecting lead
Wez conductive carrying case fitted with machined dissipative pink foam insert
Items in the test kit can be purchased individually – see below for details and prices
Model 850 probes with dissipative black plastic covers are also available – contact us for details
Browser not supported
We recommend that you use the latest version of Chrome, Edge or Firefox.
Available Options: