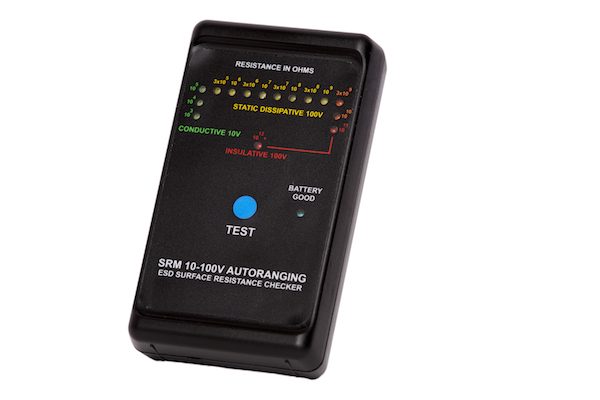 ESD Surface Resistivity Meter
A simple to use, ESD surface resistivity meter which indicates resistance to half a decade using 10/100 Volt test voltages to ensure more accurate readings.
The meter gives an LED indication of readings from conductive to static dissipative to insulative.
Supplied with test leads, 9V battery and carrying case.
Surface Resistivity Meter – 83020
Dimensions: – approx. 70mm x 130mm x 35mm
Weight: – approx. 105 grams
Power :- Battery operated PP3 9 volt
Connections :- 2 x 3.5mm jack plug for earth connection
Test Range :- 10³ to 1012+
Accuracy :- +/- 0.5 Decade in Conductive Range
Method of operation :- Push button
LED indicators : –
10³ to 10⁵ = Green (conductive)
3 x 10⁵ to 10⁹ = Yellow (Dissipative)
3 x 10⁹ to 1010 = Orange (Dissipative)
1011 to 1012+ = Red (Insulative).
This surface resistivity meter has been designed for the purpose of testing surfaces in an EPA and, by connecting the two leads from the two 3.5mm connection points to two test probes (not supplied), can be used to measure point to point resistance.
The information contained within this information sheet is for guidance only.
Browser not supported
We recommend that you use the latest version of Chrome, Edge or Firefox.
£127.50