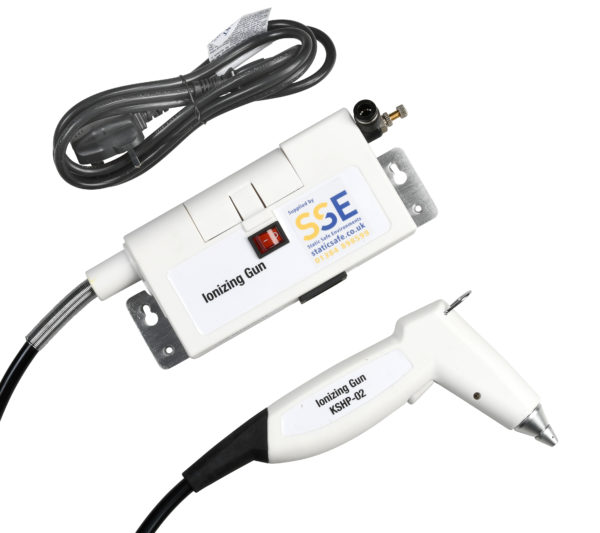 Hand Held Ionised Air Gun
A compact and light, hand held ionised air gun, designed for targeted elimination of electrostatic charges and/or removal of contamination such as dust and debris from small, defined areas.
The gun is simple and safe to use. It is equipped with an ionisation indicator light and high voltage abnormality alarm indicator light and the flow of ionised air is released by a trigger on the hand-held gun. The compressed air volume is adjusted on the controller.
It features a built in piezoelectric high voltage supply and has an auto ion balance system.
Full technical specification in Product Information.
Hand Held Ionised Air Gun – Product code: 84025
Technical Specification
Controller dimension: 120mm x 92mm x 71mm
Weight: 106g
Power Supply Voltage: DC24V
Capacity: 12VA
HV output: AC2200V
Safety performance: Equipped with ion output monitoring system
Decay time: ca. 0.3 sec
Ion Balance: Auto ion balance, 0±10V
Operating air pressure: 0.1 – 0.6 MPa
Ozone density: Less than 0.01ppm
Allowable temperature: 5 – 40°C
Air input: Compressed air
Browser not supported
We recommend that you use the latest version of Chrome, Edge or Firefox.
£575.00