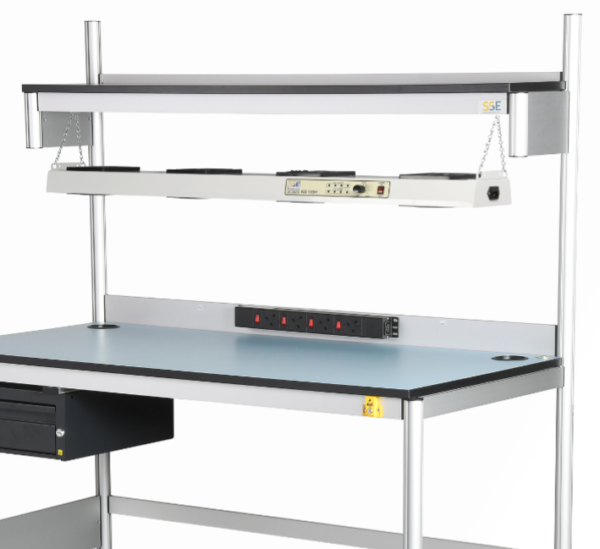 Overhead Four Fan Ioniser
A quiet, high performance four fan overhead ioniser which neutralises electrostatic charges on insulators and un-grounded conductors. Each fan operates independently with individual control and circuitry.
Simple operation with variable air volume, auto ion balance (0±5V) and out-of-balance alarm indicators. The clip-on fan covers allow for easy cleaning and maintenance
The ioniser is 1200mm long x 145mm wide x 65mm deep and is supplied with hooks for suspending above the workstation either from bench framework or the ceiling.
Supplied with a mains power lead, ready for immediate use. A full instruction manual is supplied with the ioniser.
Further technical in Product Information.
Overhead Four Fan Ioniser – Product Code 84005
Technical Specification
1200mm long x 145mm wide x 65mm deep
Weight: 6.5kg
Power Supply: AC100 – 240V 50/60 Hz
Capacity: 48VA
HV output: AC2200V
Safety: Equipped with ion output monitoring system
Ion Balance: Auto ion balance, 0±5V
Air volume: 5.2 – 13 m3/min
Ozone density: Less than 0.007ppm
Allowable temperature: 0 – 40°C
Allowable humidity 25 – 70% RH (no drops)
CE Approved
Browser not supported
We recommend that you use the latest version of Chrome, Edge or Firefox.
£720.00