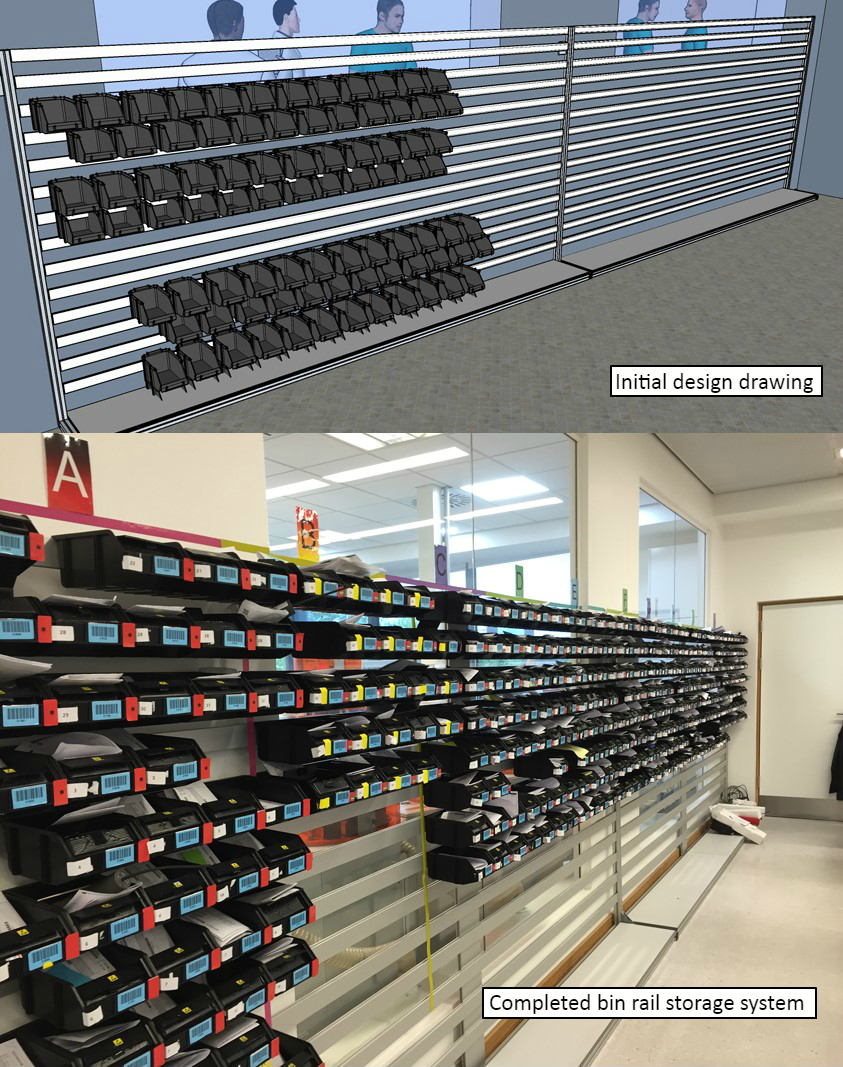 Earlier this year, Static Safe Environments was called in by one of its customers, an international manufacturer of a range of wireless communication systems, to look at designing an ESD bin rail system for storing items awaiting service. Their North European Production and Service facility is located in the UK where products are received on a daily basis from 18 countries across Europe for diagnosis, service and repair.
Each item received into the service facility is assigned a job number, inspected, placed in a conductive picking bin with its diagnostic paperwork while an instruction for repair is awaited. The bins are stored in what effectively is a 'quotation holding area'.
Prior to Static Safe Environments being called to look at ways of improving their system, the bins were stored on a collection of free-standing individual racks of differing widths and depths, each of which took up an unnecessary amount of space and prevented the bins from being moved quickly and easily to different locations.
Our customer wanted to increase the holding capacity for bins in the same available space and create a seamless rail system whereby bins could easily be slid to the next, age-related, location – an operation happening over 100 times a day. The Service Manager also wanted the new 'quotation holding area' to provide both an instant visual of the service situation at any given time as well as simply making items quicker and easier to locate. The products are susceptible to ESD damage, so the design of the installation had to ensure continuity to an earth point.
Static Safe Environments prepared a design drawing for the customer and, once approved, manufactured the storage system using standard aluminium 'APS' Workbench bin rails (albeit three or four times the normal length) and a bespoke supporting framework, fixed to the wall for added stability. SSE also designed in a laminate storage shelf running the full length of the base for storage of larger items.
The whole installation of 98 metres of conductive bin rail was completed in less than half a day, thereby minimising disruption of the service operation.