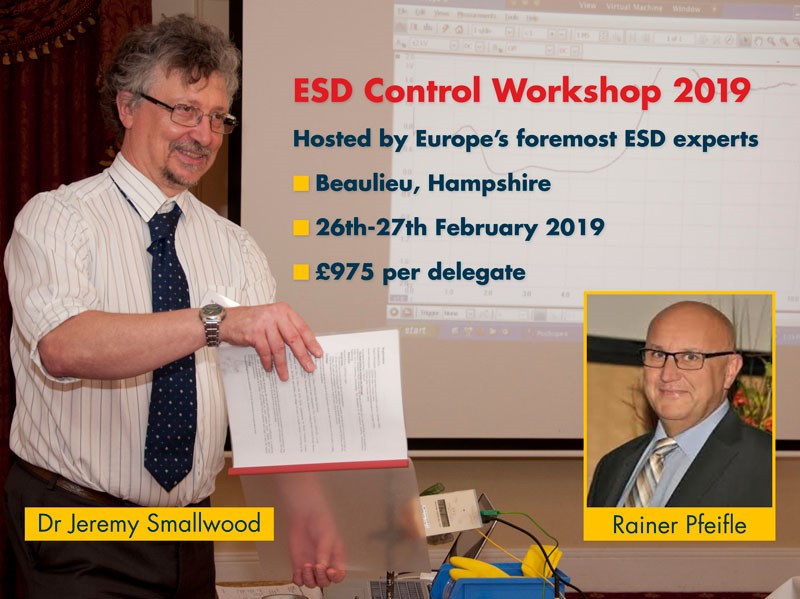 This is a rare opportunity to attend a workshop run by two of Europe's foremost experts in ESD control in the workplace. The content of this workshop is tailored for delegates who have an existing, basic understanding of ESD protection and control in the electronics industry and wish to gain a deeper knowledge and understanding of ESD in the workplace.
The workshop will be hosted by Dr Jeremy Smallwood and Rainer Pfeifle, respectively the UK and German IEC TC101 Chief Delegates. Jeremy specialises in training, consultancy, test and R&D for the electronics industry whilst Rainer combines his roles on the German Standards Committee and Technical Committee TC101 with being General Manager of Wolfgang Warmbier GmbH & Co. KG, Germany's leading supplier of ESD control products.
Both Jeremy and Rainer have extensive, practical knowledge and experience of the effects and control of ESD in the workplace and the course will enable delegates to draw on that knowledge and experience with reference to their own workplace. Jeremy and Rainer will use practical demonstrations throughout the course to illustrate the effects of ESD and the effectiveness (or otherwise!) of different control measures.
The Workshop will take place over two days on 26th and 27th February at the Beaulieu Hotel in Hampshire and the cost is £975.00 per delegate.
Places are on the course are limited and early booking is recommended to avoid missing the opportunity. Please contact Sue Hancocks on s.hancocks@staticsafe.co.uk or on 01384 898599 to book your place, or for more details of course content.