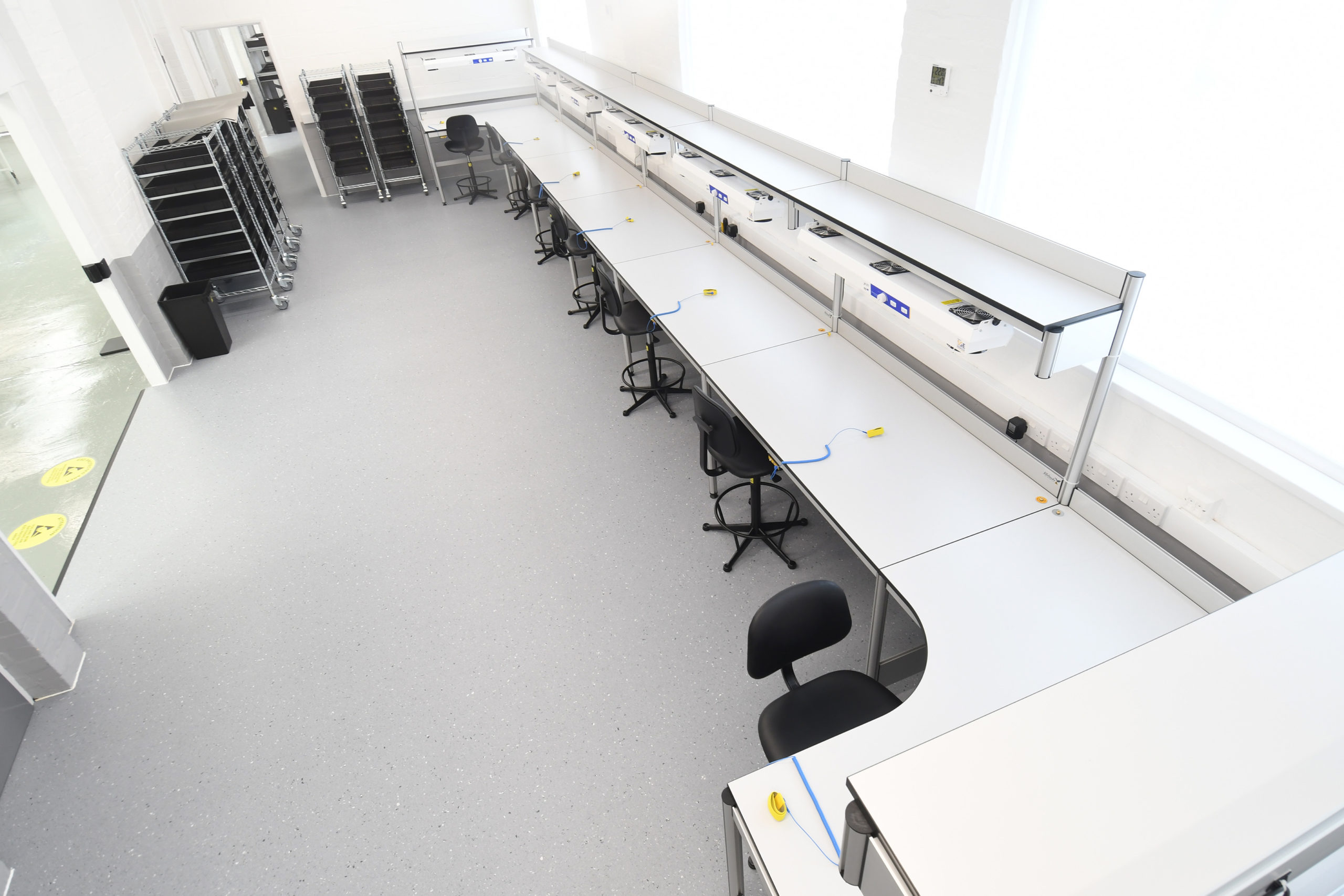 Rimer Alco is a trading division of CamdenBoss Ltd, specialising in the design and manufacture of high value medical and biotech devices as well as large volume IOT hardware systems for their customers.
Its recent incorporation into CamdenBoss and the linking of the group's comprehensive range of enclosures and e-mech component offerings has provided Rimer Alco with further contract manufacturing opportunities – specifically the design and assembly of bespoke injection mouldings and 'box build' of customers' PCBs and electronics into their moulded enclosures, all under one roof.
The award of a major design and manufacture contract earlier this year resulted in Rimer Alco undertaking a comprehensive ESD programme at their assembly facility in Thetford. Elements of the devices involved in the contract are sensitive to electrostatic discharge (ESD) and Rimer Alco approached Static Safe Environments Ltd to provide the ESD products and services required for the assembly process.
The two major components supplied by SSE to create the new ESD protected area (EPA) were the ESD flooring and benches.
Because the existing floor slab in Rimer Alco's new EPA was relatively uneven and would have required time-consuming and expensive shot-blasting to provide the smooth slab required for an adhered, resilient flooring material, SSE recommended installing their NeoStat® VXI interlocking vinyl ESD floor tiles in the new EPA. VXI tiles can be laid directly onto most sub-floors without the need for any floor preparation. SSE installed NeoStat® VXI tiles on a copper grid connected to earth points which also serve as the floor test points.  The interlocking feature of the VXI tile is on the underside, consequently the finished floor surface is free of visible joins and the 10mm thick construction of the tile negates any unevenness in the floor slab.
All assembly processes which involve static sensitive components are carried out in the EPA on Kitehawke ESD benches supplied by SSE. The Kitehawke ESD bench range is an aluminium framed bench system designed specifically for ESD use. In Rimer Alco's EPA, SSE installed a combination of interlinked, freestanding and corner benches, each with static dissipative laminate worktops and dissipative rubber bench mats. Because some of the operations involve work on chassis made from insulative material, SSE fitted overhead ionisers at each workstation to minimise any potential build-up of static charge on the material.
Rimer Alco were adamant that their ESD procedures within the EPA were adhered to strictly. To help achieve this, each bench has an SSE continuous monitor fitted which constantly monitors the integrity of the operator's wrist strap system and the grounding of the dissipative mat, sounding an alarm if connection to ground of either is lost. The entrance to the EPA has a retractable barrier marked 'ESD Protected Area', a foot and wrist strap checker and a locker for ESD shoes. All EPA boundaries are clearly marked with the appropriate signage.
For the assembly processes which are not ESD sensitive, Rimer Alco needed long, unbroken runs of assembly benching. When a continuous run of benching is required, The Kitehawke bench design utilises common framework so that the tops butt together without gaps and the number of support legs below is minimised. SSE supplied back-to-back runs, 10.5 metres long which matched the EPA benches, but fitted with standard, non-dissipative tops.
In addition to the flooring and benches supplied, SSE supplied widespan ESD shelving and conductive container trolleys to for the storage, handling and transit of static sensitive stock components and sub-assemblies in conductive plastic Wez containers.
Contact us for more information on any of the products and services SSE provided on this ESD project.