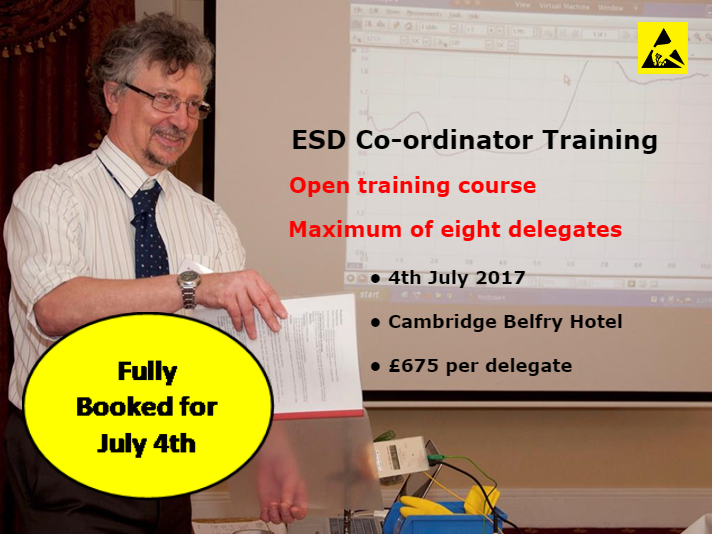 Last month's open ESD Co-ordinator training course was held in Southampton and attended by eight delegates from seven different companies. Our next ESD Co-ordinator course will be taking place at the Cambridge Belfry Hotel on Tuesday July 4th.
This is an opportunity to receive training by the UK's foremost expert on ESD in the workplace, Dr Jeremy Smallwood – sharing the cost with a maximum of seven other ESD Co-ordinators as you train.
The Course:
"The ESD co-ordinator should be responsible for implementing the requirements of the Standard which includes establishing, documenting, maintaining and verifying the compliance of the company ESD control programme".
This full-day course is designed to ensure that the ESD Co-ordinator has a thorough ESD technical knowledge, knows how to use measuring equipment and interpret the results obtained and has the correct information to make sure the control program is maintained and enforced. You will also have the opportunity to raise ESD-related questions specific to your work environment. Because of its hands-on nature, the course is limited to a maximum of eight delegates.
The Venue:
The training course is being held at the Cambridge Belfry Hotel just outside of Cambridge. The course runs from 9.00am until 4.30pm.
A hot and cold buffet lunch is available and refreshments will be available throughout the day, from 7.30am onwards. Parking is free.
The Cost:
The cost is £675.00 per delegate which includes a full set of course notes and a Certificate of Attendance signed by Dr Smallwood.
The hot and cold buffet lunch is included and refreshments are free of charge throughout the day.
Your Trainer – Dr Jeremy Smallwood
After spending seven years as an electronics designer, Jeremy completed a PhD in Electrostatic Discharge (ESD) Ignition of Pyrotechnic Materials and has since produced over 40 scientific publications around the subject of ESD and is frequently asked to speak at international conferences and workshops.
As Chairman of the International Electrotechnical Commission (Technical Committee 101 – Electrostatics) between 2000 and 2012, Jeremy oversaw and was on the team that wrote BS EN 61340-5-1, the European ESD Standard.
Jeremy's involvement with Standards relating to electrostatic sensitive devices is unparalleled in the United Kingdom and he is an active member on British Standards panels. In addition to his involvement with British Standards, Jeremy represents the UK as principle expert at IEC Standards meetings. Jeremy is more than happy to answer questions, in particular regarding the new Standard BS EN61340-5-1: 2016
How to book:
Contact Sue Hancocks, SSE's Training Co-ordinator or Tim Welch, to book your place on the course or for more details of course content.